Koh Lipe is located in the Andaman Sea in southern Thailand. It is a tropical paradise known for its crystal-clear waters, white sandy beaches, and diverse marine life. The monsoon season of Koh Lipe is from June to October every year, when the national park will announce the closure of some islands and refrain from diving. from May 16 to October 15 of every year, but during the monsoon season, it doesn't rain all the time. Thus allowing tourists to still be able to go to Koh Lipe comfortably. There is a speedboat running every day. (Recommend checking the weather before traveling every time.)
If you are planning a trip to "Koh Lipe" but not sure when to go or what the weather will be like, In this article, Akira Lipe will talk about the weather on Koh Lipe. Let's see how it is.
Koh Lipe Weather Guide
Travel to Lipe from 15 October – 30 May.
Season: High Season
Accommodation: Prices during this period are still cheap. Some resorts still charge low-season prices.
Snorkeling spot: It's the opening of the park. can go to the famous spot of "Koh Lipe."
Beauty Rating: Out of 10, we give 9. If it doesn't rain, it will be more beautiful. The diving point can be called "Heaven Under the Sea."
Travel to Lipe from 1 December – 31 January and 1 – 30 April.
Season: Peak of the season
Accommodation: The price of each room is the most expensive. because there is a long holiday for almost a whole month.
Snorkeling spot: It's the opening of the park. can go to the famous spot of "Koh Lipe."
Beauty Score: Out of 10, we give it an 8. If it doesn't rain, it will be more beautiful than the water point. "Paradise under the Sea,", but there are too many people.
Travel to Lipe from 1 February – 30 March.
Season: High Season
Accommodation: the price for each room will be cheaper than during the peak season.
Snorkeling spot: It's the opening of the park. able to go diving in the outer zone, in the inner zone
Beauty Score: Full 10. We give it a full 10 because it's a beautiful moment, there's a good atmosphere, we don't talk too much, and you have to try it yourself.
Travel to Lipe on 1 – 31 May
Season: Low Season
Accommodation: The price for each room will be cheaper than in high season.
Snorkeling point: After May 15, the national park will close the island. Seung can dive only in the east zone.
Beauty Score: Out of 10, we give it an 8 because some days it rains. But if the weather is good and sunny, it will be very beautiful.
Travel to Lipe from 1 June – 30 September.
Season: During the low season There is a monsoon.
Accommodation: the price for each room will be spoiled. It's like giving it away for free!
Snorkeling spot: see coral reefs: only in the east zone
Beauty Score: Out of 10, we give it 7 because some days are very beautiful; some days it rains, but it's still beautiful. When the weather is good, it's very beautiful, peaceful, and less crowded, making it suitable for people who want to relax.
---
5 Reasons to Visit Lipe During the Low Season
Planning a trip to Koh Lipe but still don't know when to go? It is important to know that the high season is from November to May, when the weather is sunny and the waters are crystal clear. This is the best time to visit if you want to enjoy the beauty of the island to the fullest. Don't worry. It doesn't rain every day, and tourists still come to visit. So, plan your trip accordingly and experience the beaches and marine life of Koh Lipe!
The low season is between June and October, which is also the monsoon season. Although there will be some rain, the island is not closed. Tourists can still travel. But some dive sites may close during this time to allow coral and marine life to recover. And in this article, we have five reasons to guide you on why you should visit Koh Lipe during low season, as follows: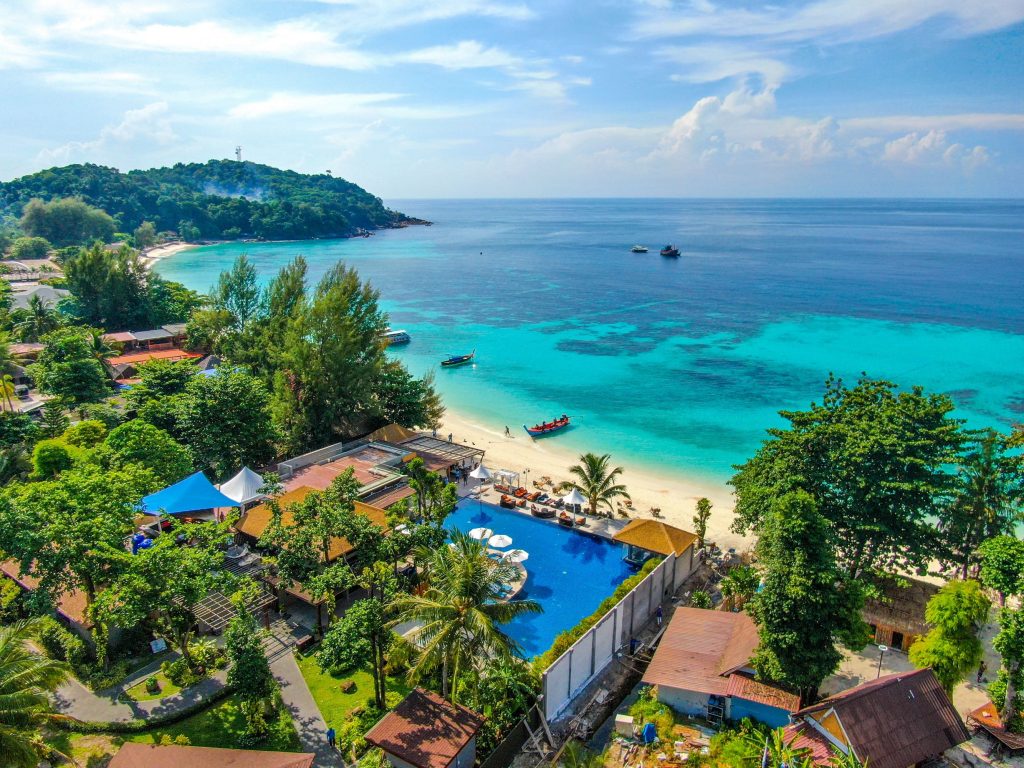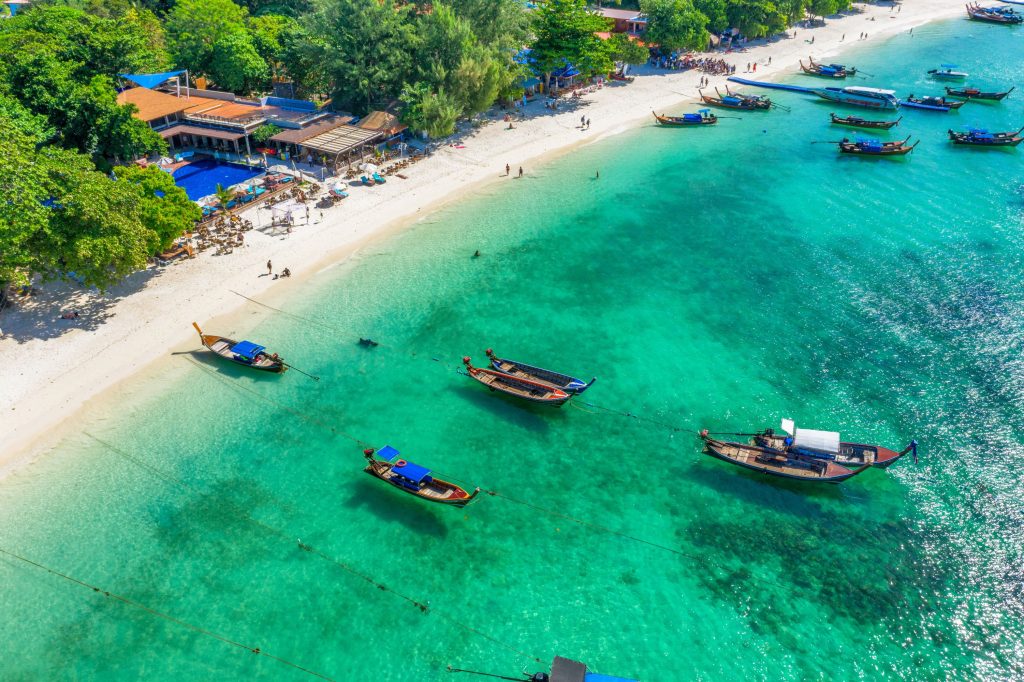 1. There are not many tourists.
Fewer tourists during the low season means less congestion and a more peaceful environment. Due to the small number of tourists traveling to popular tourist destinations. Low-season travelers can therefore enjoy a more intimate and personalized experience without the bulk of the tour. And this allows travelers to fully immerse themselves in the local culture. Plus, having fewer tourists means shorter queues and waiting times. It provides access to popular places and activities. made easier
2. cheaper price
The high season prices are higher, but the low season prices are lower, meaning travelers can enjoy a rewarding trip with lower accommodation, transport, dining, and activity costs. less tourists Businesses often offer discounts and promotions to attract customers. Travelers can save money and get a more rewarding travel experience by taking advantage of these lower prices.
3. calm sea
The Andaman Sea is exceptionally calm during the low season, making it easier and more enjoyable for tourists to go snorkeling or sailing. With less wind and waves, the water is therefore softer and calmer. The weather is generally warmer and more stable during this time. This creates ideal conditions for various water activities. Visitors can snorkel, scuba dive, take boat tours, swim, and do other beach activities. safely and comfortably without having to worry about strong currents or waves.
4. Opportunity to watch the monsoon
Visiting the island during the low season gives you the chance to witness the monsoon season, a unique weather phenomenon. while others may just want to escape from the rain. But some see it as a uniquely beautiful and fascinating experience. Watching a monsoon can also offer a chance to observe a different local environment. In addition, experiencing the monsoon season can be a cultural experience. This is because locals may have unique customs and practices related to the season.
5. More personalized service
With fewer tourists on the island during the low season. Travelers may enjoy more personalized service from hotels, restaurants, and tour operators. This means employees can provide better service and more individual attention. This will enhance the overall travel experience. In addition, businesses may be more flexible and willing to accommodate specific requests or needs during low seasons, which further increases the level of personalized service.
---
Summarize
After reading 5 reasons to visit Lipe during the low season, you can see how important a worthwhile trip is. Worth the money in the pocket, worth the trip full of atmosphere and beautiful nature. You'll see that it's not necessary to visit when people like to go and have fun. It also comes with something strange and new that you can show off to others as well. Then don't forget to plan early. It is essential for a successful trip during the low season. Overall, traveling during this period can bring some unique experiences.
---
You can contact us at