Lipe is a famous tourist destination in Satun province. Located on the beautiful Andaman Sea. White-sand beaches and crystal-clear waters attract tourists from all over the world. There are many attractions to explore. including Koh Tarutao, Koh Hin, Coral 7 Colors, and a bustling walking street with many restaurants to choose from. It is a complete natural wonderland for tourists.
If you want to go to Lipe, you have to take a boat from Pak Bara Pier. Which is the main pier leading to Koh Lipe? In this article, we will introduce how to get to Pak Bara Pier. To make it easier for you to reach this destination.
Pakbara Pier is the main starting point for traveling to Koh Lipe.
Pak Bara Pier is a small area that serves as a gateway for tourists traveling from Pak Bara to Koh Lipe. The harbor area is well maintained. With cleaning staff working all day long, the interior is clean, air-conditioned, and comfortable. In this waiting area, you'll find souvenir shops, boutiques, and restaurants. And be sure to arrive at the certified spot 30 minutes before the cruise to allow enough time to prepare for the trip.
Getting to Koh Lipe
Must come to get on the boat at Pak Bara, La-ngu District, Satun Province, which has a variety of journeys. to arrive at Pak Bara Pier. Each has its advantages. Disadvantages are different. Maybe the cost is high, but travel is fast. Maybe it's late, but it captures the atmosphere. It depends on how convenient the tourists are. Traveling to Lipe Many of you may still be confused. Because Satun province itself has no train station or airport to travel directly Today we present How to Travel to Lipe for tourists who are interested in understanding each other.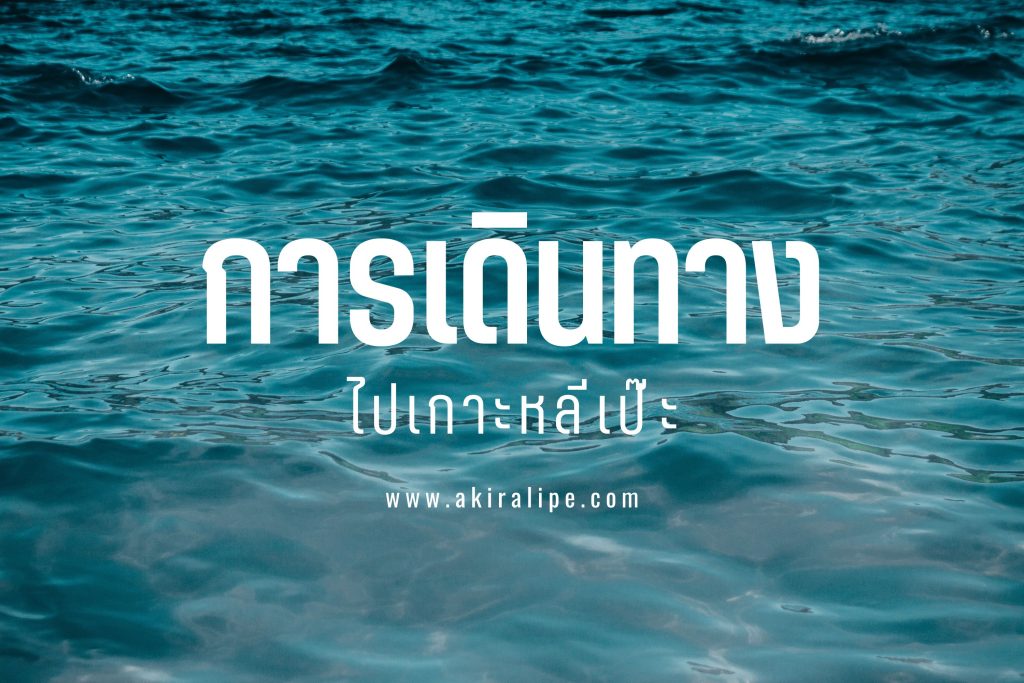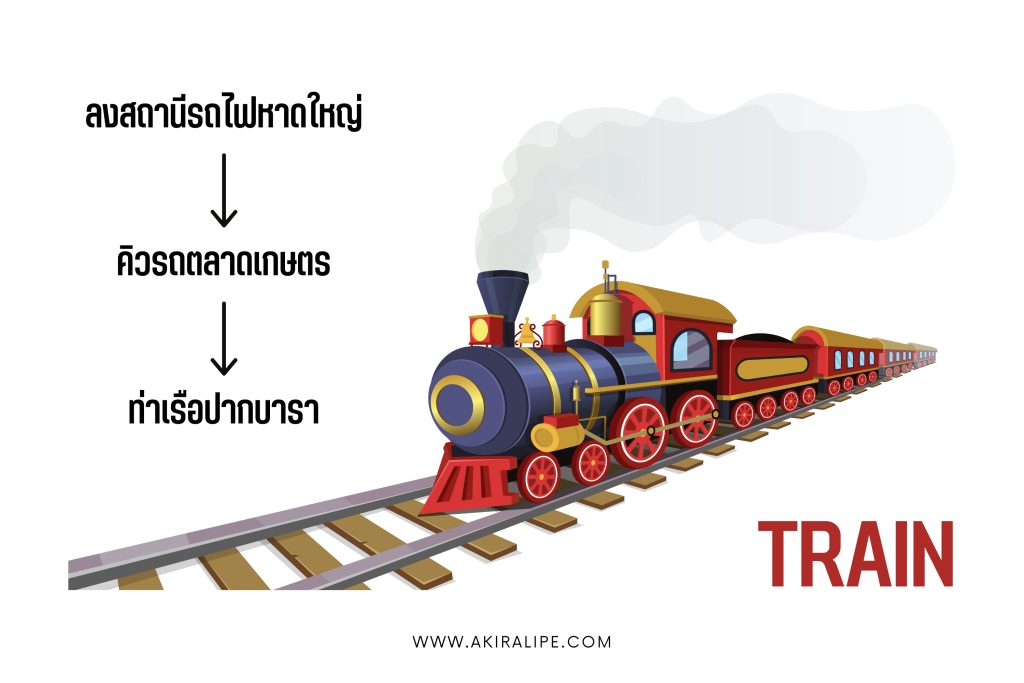 To get to Lipe, there are ways to travel as follows:
1. Travel by train
For tourists from Bangkok or the central region How to get there: You will arrive late. Suitable for tourists who are chilling, eating wind, and capturing the atmosphere while traveling on the train. It's the most basic way to travel. for tourists who want to go to Lipe You have to reserve a train to Hat Yai Junction Railway Station first and ride continuously for about 12 hours. Having to ride a motorcycle later to the agricultural market van queue to take a van later to Pak Bara Pier
Train to Hat Yai Junction Station (book trains at www.dticket.railway.co.th)
Train No. 171 (Bangkok-SSu-ngai Kolok) leaves Bangkok at 12.30 p.m. and arrives in Hat Yai at 06.30 a.m.
Train No. 31 (Taksinarat) leaves Bangkok at 2:30 p.m. and arrives in Hat Yai at 7:25 a.m.
2. Travel by tour bus
Go to Lipe by bus, Bangkok-SSatun, which has many tour operators. which has a bus service to the destination of Satun The tour bus will send passengers to their destination. At Satun Bus Terminal Get off at the parking spot in La-ngu District; on average, the service fee is 700–800 baht. It is recommended to choose a bus to arrive at the destination before noon. In order to have time to ride the car to Pak Bara Pier. Can take a minibus Continue to Pak Bara Pier for only 25 baht if you want to get there faster. It is recommended to sit and win instead. Motorcycle service fee It's about 80–100 baht.
3. Travel by private car
In this way, tourists who go to Lipe can come directly to Pak Bara Pier. There will be a car storage service. in that area for tourists who do not know the route. Go straight to Satun Province first when you reach the Chalung intersection. There will be a sign showing you to turn right to La-ngu District. Drive along the Chalung-La-ngu road; there will be a sign on the way. Pak Bara Pier or follow the GPS key. Pak Bara Pier
4. Travel by plane
Go to Lipe by plane. This is the way to travel. reached as soon as possible, able to manage time more easily. Have time to shop for clothes and equipment on the pier first. Tourists must reserve the plane. Hat Yai Airport is a good way to check the time. Arrive at the destination before 10 a.m. to catch the last speed boat. Then take a ride later at Pakbara Pier.
---
How to travel to Koh Lipe?
Many people probably know "Koh Lipe," or the Maldives of Thailand. Koh Lipe is a small island. In Satun Province on the Andaman Sea near Langkawi Island, Malaysia, Koh Lipe is an island that many people dream of visiting once in their lives. Many people say that traveling is difficult. Many people say it's a long way to get there, and it takes almost a day. So today I will go over the details of traveling to Koh Lipe. From the Bangkok airport to the island, actually traveling to Koh Lipe is not complicated.
1. Traveling from Don Mueang Airport or Suvarnabhumi Airport
Choose a flight to Hat Yai Airport no later than 9:00 a.m. in order to be able to catch the boat that will cross to Koh Lipe.
2. Arrive at Hat Yai Airport.
A van will be waiting to pick you up outside the airport. We travel to Exit No. 7 or 8 of Hat Yai Airport; from Hat Yai Airport to Pak Bara Pier, it takes 2 hours.
3. The van arrives at Pak Bara Pier.
The van will drop you off at the front of the company with whom you booked the tour at Pak Bara Pier.
4. Get the boat ticket and pay the fee at the passenger terminal.
When the tour company books the package or a trip, Contact the staff to receive the boat ticket successfully. and walk to the passenger terminal to prepare to board the ship. Before entering the passenger terminal, a national park fee of 40 baht and a pier fee of 20 baht must be paid. Pay the national park fee of 200 baht, the pier fee of 20 baht.
5. Take a boat to Koh Lipe.
11.30 a.m. A passenger boat departs from Pak Bara Pier to head to Koh Lipe. On the way, the boat will stop at Koh Tarutao and Khai Island for 15 minutes each for tourists to take photos and check in (travel time: 2 hours).
6. Arrive at Koh Lipe.
Arrive at Koh Lipe. The boat will park in front of Pattaya Beach. When arriving at Koh Lipe, there will be staff from each resort waiting to receive tourists. And take you to check in at the accommodation that you have booked.
The travel process is not complicated. Arrive at Koh Lipe to enjoy nature. and experience the underwater world of Koh Lipe with various types of coral. A variety of small fish species The activity here is snorkeling. You can choose either snorkeling or scuba diving in addition to snorkeling activities. There is also a kayaking activity on small islands near Lipe for everyone to experience an unforgettable experience.
---
Car to Pak Bara Pier with Akira Speedboat
The car travels with Akira Speedboat if you travel by plane. We will have a car to pick you up. Arrive at Hat Yai Airport to go to Pakbara Pier, which is the pier before boarding the boat to Lipe. Travel time from Hat Yai Airport Arrive at Pak Bara Pier for about 2 hours if many tourists come together. A car can be rented with Akira Speedboat, with two types of shuttles to choose from: a 9-seat van and a 17-seat minibus. The interior is clean and comfortable, and the service staff is excellent.
Round trips to Lipe by Akira Speedboat are as follows:
Departure bus (Hat Yai Airport-Pak Bara) at 9.30 a.m. and 11.30 a.m.
Return bus round trip (Pak Bara-Hat Yai Airport) at 11.30 a.m. and 13.30 a.m.
Book a boat to Lipe with Akira Speedboat
Book a boat with Akira Speedboat, the leader in tourism. Provides a speed boat service from Pak Bara Pier to Korea exactly. which is the nearest distance The journey takes 1 hour and 30 minutes. traveling as a group You can charter a speedboat with us, with 45 seats in the boat, which we recommend. Reserve the boat in advance. to prevent the ship from being full. If customers come to the event, the boat may be full first; booking first is more certain, with tourists able to book a boat with Lipe Resort straight away. So you don't have to waste time contacting me many times.
Boat trips to Lipe by Akira Speedboat are as follows:
Departure bus (Pak Bara-Lipe) at 11.30 a.m. and 01.30 p.m.
Return bus (Lipe-Pak Bara) at 09.30 a.m. and 11.30 a.m.
Frequently Asked Questions (FAQs)
Q : Akira Speedboat, what service?
A : Akira speed boat We are a travel agent providing car booking services and booking boats going back and forth to Koh Lipe. by a professional team.
Q : When is the best time to visit Lipe?
A : For traveling to Koh Lipe It is recommended to come during "November to mid-May" because there is rarely rain and storms. During this period, the sea water has a particularly beautiful color. Able to visit Lipe fully.
Q : Can I charter a car to Pak Bara Pier?
A : You can rent a car. Pak Bara Pier, with VIP vans with 9 seats and minibuses with 17 seats, has high and airy, comfortable seating suitable for the number of tourists.
Q : Bus-boat timetable to Lipe?
A :
Shuttle schedule to and from
Hat Yai Airport-Pak Bara (around 09.30 a.m. and 11.30 a.m.)
Pak Bara-Airport-Hat Yai City (times 11.30 a.m. and 01.30 p.m.)
Round-trip boat schedule
Pak Bara-Koh Lipe (around 11.30 a.m. and 13.30 p.m.)
Koh Lipe-Pak Bara (around 09.30 a.m. and 11.30 a.m.)
Q : What is the travel time from Pakbara to Koh Lipe?
A : It takes about 1 hour and 30 minutes by a large speed boat.
Q : Traveling to and from Langkawi Island, Malaysia, and Koh Lipe, what should I do?
A : If tourists come from Langkawi Island Upon arriving at Koh Lipe, foreign tourists must pass through immigration. The immigration checkpoint is located on the beach side of Pattaya.
Q : How do I get to Koh Lipe? What should I do?
A : When you take a passenger boat from Pak Bara Pier, when you arrive at Koh Lipe, there is no berth for mooring the passenger boat. To get to the island, you have to take a long-tail boat to the beachfront.
Q : How many hours does it take from Bangkok to Lipe?
A : Traveling by plane from Don Mueang Airport to Hat Yai Airport takes about 1 hour and 25 minutes. A van from Hat Yai Airport to Pak Bara Pier takes about 2 hours. Then a boat ride to Koh Lipe takes about 1 hour, 30 minutes.
Akira Speed Boat can be contacted at
---
You can contact us at